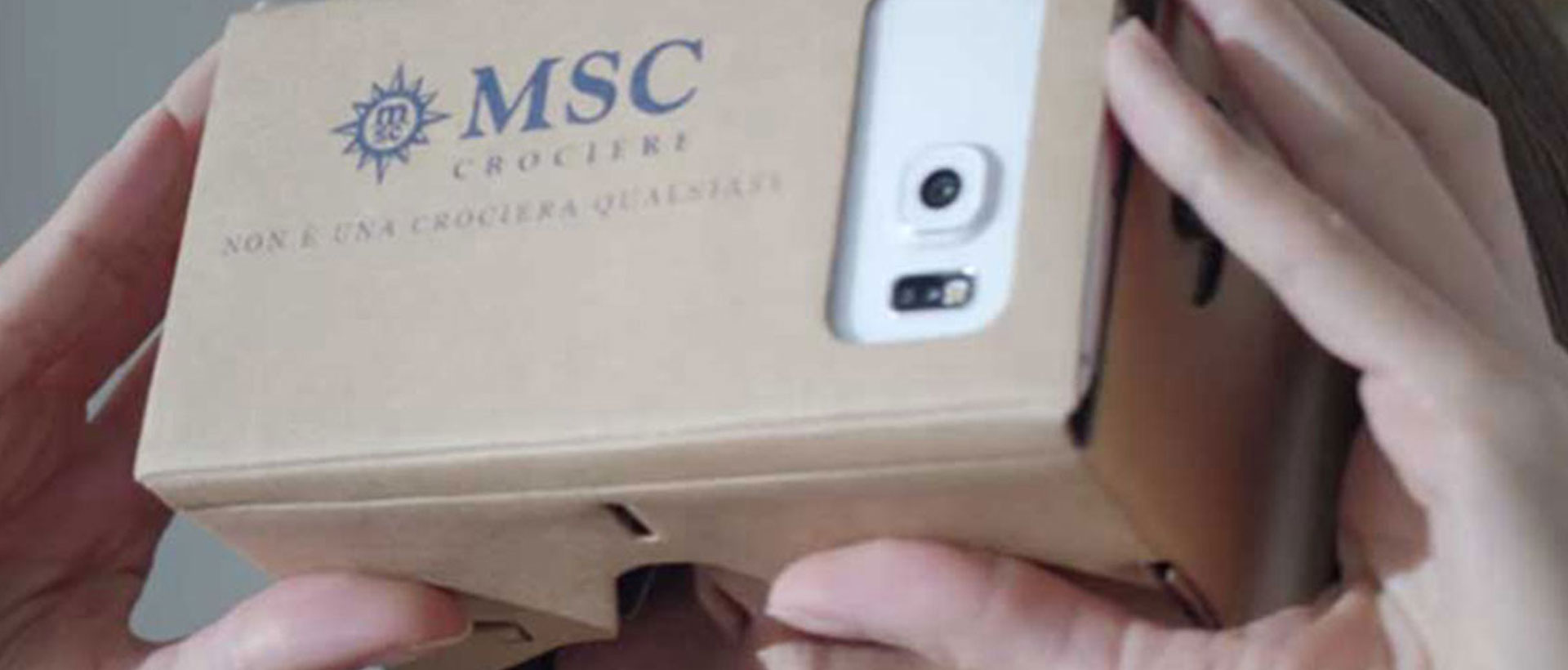 What is the connection between innovation, promotion, and entertainment?
Andrea Guanci, MSC marketing director, announced MSC Cruises has just launched a VR immersive brochure as a new promotion technique and revealed how to boost the company using innovative technology and virtual reality entertainment.
The word "innovation" comes from latin "innovatio" which means to change, renovate, or make something new and improved.
In his article on Linkedin, Andrea Guanci writes how few innovative products are found in the market today. Although new ideas are introduced regularly, they often lack concrete results in reality. It is tough to make an innovative idea stick, but Guanci has an answer: take a project that already exists and mix it in an innovative way, redevelop it into an original idea, and create a new experience.
"How can technology affect my life?"
Andrea Guanci offers a concrete example of how a huge company like MSC Cruises uses innovation to change the way it promotes itself and entertains its customers.
The travel industry has completely changed in the last ten years: right now everyone can book a flight from a computer, make a reservation for a hotel, hire a car, and book tickets for their itinerary upon arrival.
The era when customers went into a travel agency and left with a binder full of thick brochures is over.
Today clients want to be entertained and impressed.
They are excited for their holiday, their travel plans, or their honeymoon and they cannot wait to arrive. Shouldn't planning the trip reflect that excitement? How could MSC build anticipation while making the planning process more enjoyable?
It is not a coincidence that the word "entertainment" was the incipit of a press conference last March in Milan launching the first MSC Cruises virtual brochure in the travel industry. When Leonardo Massa, MSC Cruises' country manager for Italy, announced this new brochure for 2017-18, he pointed how this is offers atailor-made approach to understanding the needs of all potential customers.
The key elements of MSC Cruises will be an expanded fleet, new itineraries and, above all, experiences presented in both print and virtual brochures, as he reported.
Thanks to social media and the official hashtag #MSC360VR on Twitter, this event has become a massive success in a short period of time.
How to change a promotional system and why?
Advertising and branded content already try to make their activities more enjoyable and attractive. Emotional advertising informs the viewers not just about the products, but about the feelings associated with that brand.
Travel agencies need to utilise these emotional techniques. Customers should feel the sensations they seek from travelling through the advertising. Whether they seek relaxation, adventure, or education; the travel agency should strive to capture that feeling of wanderlust in each advertisement.
MSC Cruises offers the perfect example of innovation, promotion and entertainment combining to put their customers in the front row with 360 degree videos.
For the first time, viewers can experience a taste of their holiday before they book.
The goal for the enterprise is to double the number of customers
But where the idea of an immersive catalogue start?
In the words of Andrea Guanci: "This is a world premiere in term of promotion and information for clients; we want to launch the new immersive catalogue with this sentence: Entertainment is the new step for promotion".
MSC has made its catalogue, its primary promotional content, come alive as a true entertainment platform with integrated virtual reality technology.
MSC exports this of technology throughout their travel agencies and in their online catalogues making it something interesting, attractive, and enjoyable.
How can everyone experience virtual reality?
Imagine an MSC catalogue in your hands, shuffling it while seated in your favourite armchair.
Got the image? Hold it in your mind.
Imagine the brochure all around you, brought alive through virtual reality. You hear the Pacific Ocean breeze, see the snowcapped summits in the Alps, all while seated in your favourite armchair. Through the use of a simple cardboard device, anyone with a smartphone can access this virtual world.
Every MSC customer receives a free copy of the MSC immersive catalogue and a cardboard cutout to launch them into their sometimes first virtual reality experience. They then can download the company's app, MSC 360VR (available on the App Store or Google Play Store), or read the QR code printed on every page and enjoy the experience of walking aboard one of the most beautiful cruise ships they have ever seen before. They look around to see the swimming pools, the spa, the restaurants, the theatres and soak up the indescribable experience of stepping aboard an ocean liner.
Thanks to this "immersive" catalogue, customers will become true participants in MSC Cruises' virtual world with 360 degrees videos.
Leonardo Massa is firmly convinced the program will revolutionise the travel industry. He said, "The catalogue lets everyone experience the atmosphere and the sights and sounds of the cruise in advance".
Conclusion
MSC Cruises chose to invest in virtual reality and completely transformed the traditional customer travel planning experience.
The goal for the enterprise is to double the number of customers in eight years to from 1.7 to 3.4 million. It is a zealous goal, but it is based on the previous results MSC has obtained over the course of the last year. With their innovative culture and desire to make the customer experience the best it can be, it will be no surprise when this goal is accomplished.
Communication is one of the reasons why MSC is so competitive and successful. It communicates with a new and amusing approach while using powerfully innovative technology to set themselves apart from the coloured catalogues and glossy brochures of the past and forge a future in virtual reality.
This is just one example of how much virtual reality creates experiences in advance and building anticipation before the real thing.
360dgree.com does more and gives the users the opportunities to interact with a video and participate in a proactive way while watching. Virtual and augmented reality are engaging instruments to place your customers in midst of the action, not behind it.
Do you really want to boost your business?
Let's immerse in innovation.

Download PDF here